Kathleen Gallagher
Faculty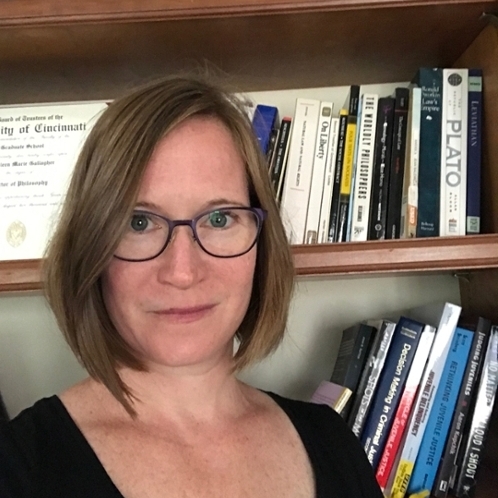 Assistant Professor (Fixed-Term)
School of Criminal Justice
557 Baker Hall
655 Auditorium Rd.
East Lansing, MI 48824
(517) 355-2197
Links
---
Biography
Kathleen Gallagher is an Assistant Professor in the School of Criminal Justice whose research focuses on environmental criminology, with a specific interest in the nexus between environmental criminology theory and crime analysis practice. Kathleen holds a Ph.D. in Criminal Justice from the University of Cincinnati, and an MS and BA from American University. She has been published in
Policing: An International Journal of Strategies & Management
;
Policing: A Journal of Policy and Practice;
and
Criminology
,
Criminal Justice
,
Law and Society
, and served as co-editor of the
International Association of Crime Analysts'
manual,
Exploring Crime Analysis
(3rd Ed.). Kathleen also provides technical and research assistance to police, community and government agencies. Prior to earning her doctorate, Kathleen served as a Crime Analyst for the Alexandria, Virginia Police Department and Coalition Manager for the non-profit National Crime Prevention Council.
---
Classes Taught
CJ 801 - Crime Causation, Prevention, and Control
CJ 809 - Issues in Criminal Justice
CJ 856 - Advanced Topics in Policing
CJ 870 - Introduction to Crime Analysis
CJ 871 - Advanced Crime Analysis
CJ 887 - Quantitative Methods
---
Publications
Exploring Crime Analysis: Readings on Essential Skills (3rd Edition)
Year: 2017 Authors: Gallagher, K., Wartell, J., Gwinn, S., Jones, G., & Stewart, G. Publisher: International Association of Crime Analysts

The Importance of Small Units of Aggregation: Trajectories of Crime at Addresses in Cincinnati, Ohio, 1998-2012
Year: 2016 Authors: Payne, T.C., & Gallagher, K. Journal: Criminology, Criminal Justice, Law & Society

Problem Framing in Problem Solving: A Case Study
Year: 2013 Authors: Payne, T.C., Gallagher, K., Eck, J.E., & Franke, J. Journal: Policing: An International Journal of Police Strategies and Management

Translating Environmental Criminology Theory into Crime Analysis Practice
Year: 2012 Authors: Wartell, J., & Gallagher, K. Journal: Policing: A Journal of Policy and Practice
---