Alumni Spotlight Series: Jeffrey Senese
July 19, 2018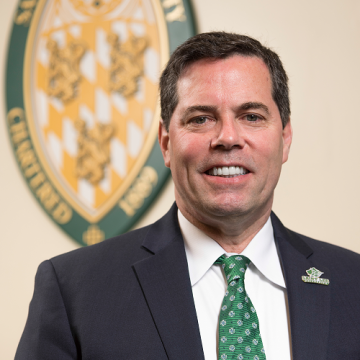 The Alumni Spotlight is a new series for our website where we will highlight the achievements of our alumni from all corners of the world in a variety of careers. Our first alumni in the spotlight is Dr. Jeffrey Senese; president of Saint Leo University, Florida's first Catholic University.
Prior to attending Michigan State University, Jeff earned his Bachelor's Degree in Criminal Justice from Pennsylvania State University, and his Master's Degree in Criminology from Indiana State University. Interested in continuing his education, Jeff attended Michigan State University where he studied Criminal Justice, Statistics, and Geography, earning his PhD in 1992. While pursuing his Doctoral Degree, Jeff's research focused on the relationships between crime, unemployment and social welfare programs. Since then, Dr. Senese has completed multiple Higher Education Programs throughout his career, including: The Academic Management Institute at the National Center for Higher Education Management Systems; The Pennsylvania State University Leadership Academy; The Institute for Higher Education Management at Harvard University; and a Certificate in Development from the University of Pennsylvania.
Throughout his career, Dr. Senese has served in a variety of faculty and administrative positions. He has started his academic career at Indiana University before moving over to the University of Baltimore where he served in multiple positions, including a stint as Department Chair, and as an Associate Dean. Other positions Dr. Senese has held throughout his career include:
Chief Academic Officer at a Penn State Campus;
Academic Vice President at Mount Ida College;
Vice President for Academic Affairs at Philadelphia University;
Vice President for Academic Affairs/Vice Provost of Johnson & Wales University-Providence;
First Provost at Cardinal Stritch University;
First Provost and Senior Vice President for Academic and Student Affairs at Saint Leo University.
Dr. Senese also served as a reviewer for multiple Higher Education Accreditors, including NEASC and Middle States; Program Accreditors in New Jersey, Pennsylvania and New Hampshire; as well as conducting research funded by the U.S. Department of Justice and Department of Defense; and has work experience in South Africa, Asia, and throughout Europe. For his contributions, Dr. Senese has been recognized by the State of Maryland, and the Baltimore City Council. He has also published a methods book, multiple book chapters, professional articles, and other publications as well. He has presented at multiple conferences and events, and has been interviewed by multiple media outlets.
Dr. Senese and his wife, Alicia, have two children: Mia who is a recent graduate of Bloomsburg University in Pennsylvania, and Daniel, who is currently attending Duquesne University in Pittsburgh.