Faculty Spotlight Series: Phil Schertzing
October 25, 2018
Phil Schertzing is what some would call a Renaissance Man; having earned multiple degrees in various fields of study, a career that has spanned 41 years, and is an avid historian, volunteer, and world traveler.
Dr. Schertzing was born and raised in Dimondale, Michigan, a small village just outside of Lansing and graduated high school as a member of the first graduating class of Lansing Catholic High School in 1971. He was also part of a large household, with seven sisters, two brothers, his parents and maternal grandmother all living under the same roof!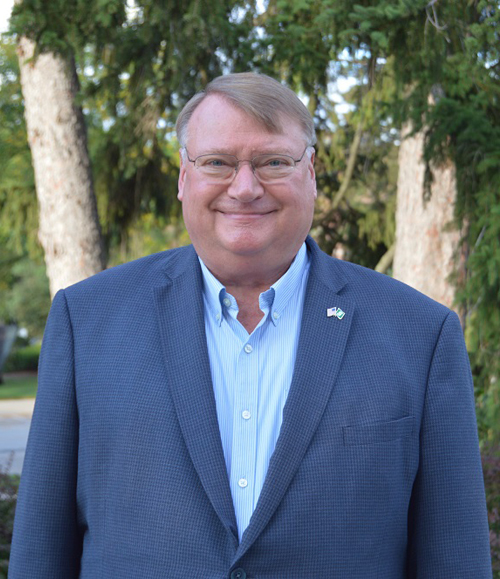 After high school, Dr. Schertzing attended Aquinas College in Grand Rapids where he studied Religious Studies (and for a short time was a seminary student studying for the priesthood at the Lansing Diocese). Since then, Dr. Schertzing has received a Master of Management Degree from Aquinas College, a PhD in American History from Michigan State University, and graduate and undergraduate credits from the University of Virginia while attending the 191st Session of the FBI National Academy.
Dr. Schertzing's Criminal Justice career began in 1977 when he enlisted in the Michigan State Police Academy. During his 25 year career with the Michigan State Police, where he retired in 2002 with the rank of Inspector, Dr. Schertzing held a variety of positions including:
Trooper at the Flat Rock and Lansing posts
Sergeant & Instructor at the Training Division (Lansing)
Shift Supervisor, Detachment Commander and Regional Dispatch Director at the Gaylord post
Post Commander at the Ithaca post
Assistant Director of the Emergency Management Division (Lansing)
Dr. Schertzing has also had a teaching career that spans 17 years. During that time, he has taught classes in American History for Lansing Community College, Emergency Management for the University of Maryland University College (UMUC), Food Protection and Defense Courses for the Online Food Safety Program in the MSU College of Veterinary Medicine, and Criminal Justice for Michigan State University.
Dr. Schertzing joined the School of Criminal Justice in the fall of 2001 as a part time adjunct teaching CJ 110 (Introduction to Criminal Justice). In 2002, he was hired as an Outreach Specialist working on the grant-funded Critical Incident Protocol Community Facilitation Program. He continued serving in this role, administering multiple federal and state homeland security grant outreach projects before eventually transitioning to a teaching role as a Fixed-Term Faculty member. Dr. Schertzing says: "After a rewarding career with the Michigan State Police, I have very much enjoyed my second career as a member of the MSU School of Criminal Justice. It has been great working with so many distinguished faculty and professional staff, teaching thousands of students in both online and traditional, on-campus classes, and traveling to conduct training programs and attend conferences. The opportunities for personal and professional growth far exceeded anything I could have anticipated."
To remain current in the fields of Homeland Security and Emergency Management, and to continue making contributions in an outreach capacity, Dr. Schertzing was appointed by Governor Rick Snyder to serve as a member of the Michigan Citizen-Community Emergency Response Coordinating Council (currently chairing the State Hazard Mitigation Committee). He also serves as a board member for the Tri-County Emergency Medical Control Authority, and the Great Lakes Hazard Coalition. Although retired, Dr. Schertzing continues to work with the Michigan State Police, conducting research and making presentations on the history of the department for various events with the MSP.
Outside of work, Dr. Schertzing and his wife Gayla enjoy traveling to various places across the globe. They also enjoy participating in family events and activities (which occur quite frequently as most of their siblings, children and grand-children live in the Greater Lansing area). Dr. Schertzing is also heavily involved in the St. Mary Cathedral parish in downtown Lansing where he serves as chair of the parish pastoral council, usher captain, a member of the Knights of Columbus council, and as a lector and Eucharistic minister.