Public Safety Memorial: Trooper Caleb Starr
October 19, 2020
Caleb H. Starr was born on May 15th, 1987 to Alan and Deborah Starr. Both Alan and Deborah had grown up in the small town of Mason, Michigan and chose to raise their two children there as well. Caleb was described by many who knew him as a child as well-behaved and always willing to try something new. This desire to experience all life had to offer was illustrated by the laundry list of hobbies Caleb accumulated throughout the years from childhood to adulthood. Some of these activities included church, tennis, soccer, golf, swimming, photography, paintball, blacksmithing, and woodworking. However, Caleb also demonstrated at an early age the willingness to balance play with work by obtaining his first part time job at just 16 years old. Caleb continued to work a variety of part time jobs throughout high school and college that included GNC, OfficeMax, and Best Buy Geek Squad.
Following graduation from high school in 2006, Caleb attended Lansing Community College before transferring to Michigan State University where he studied Criminal Justice alongside his girlfriend (and future wife) Rachael. While at MSU, Caleb continued to work part time while attending classes as a full-time student in addition to completing an internship at a local police department and studying abroad in Australia as a part of the Australia: Its People, Government, Justice Systems, and Public Policies program.
In December 2010, Caleb graduated from Michigan State University with his Bachelor of Arts in Criminal Justice. Not long after graduation, Caleb proposed to his long-time girlfriend, Rachael, while cross-country skiing following a late winter storm. With plans of enrolling in a police academy put on hold due to law enforcement hiring freezes caused by the 2008/2009 financial crisis, Caleb accepted a job offer from Auto Owners Insurance Company in Columbus, Ohio where Rachael joined him upon their marriage in late 2011. Both Caleb and Rachael enjoyed living in the Columbus area but eventually decided to move back to their hometown of Mason in mid-2014 to be closer to their own families before starting a family of their own.
Upon their return to Michigan, Caleb continued to work for Auto-Owners Insurance while Rachael gained employment as a civilian with the Michigan State Police. In April 2015 they welcomed their first daughter, Evelyn, and in October 2017 they welcomed their second daughter, Rosalie. It was shortly before the birth of their second daughter that Caleb felt a renewed desire to achieve his original dream of working in law enforcement. Caleb expressed to his wife that he wanted to set an example for their daughters that it is never too late to change the path that you are on.
After many months of discussion and planning, with Rachael's full support, Caleb was extended a job offer from the Michigan State Police and left his job at Auto Owners Insurance. In April 2019, Caleb graduated as a member of the 135th Trooper Recruit School and was assigned to the Lakeview Post near Ionia, Michigan. Here he served under the command of Lieutenant Chris Clute.
Caleb was stationed out of the Lakeview Post for roughly one-and-a-half years. His co-workers described him as intelligent, having a great sense of humor, advanced beyond his age, patient, wise, and humble. Lieutenant Clute described Caleb as an amazing trooper, refreshing to work with, and the best rookie he had ever seen.
Although Caleb was proud to have achieved his lifelong dream to become a Michigan State Police Trooper, he was even more proud to be a father and would often tease that if life circumstances had allowed, he may have preferred to be a stay-at-home father and husband. Caleb understood the value of a father figure in a child's life and went out of his way to always be there for "his girls". Whether it was reading books, coloring, playing board games, riding bikes, play-acting princess tea parties, or exploring local parks, Caleb made sure to be right there alongside them. On those days he worked, Caleb always stopped by their daycare to give them a hug and kiss goodbye despite an hour-long commute followed by a twelve-hour night shift. No matter how busy he was, Caleb always made sure to fill his family with joy and always never missed an opportunity to tell his family how much he loved them and appreciated them.

Trooper Caleb Starr was responding to non-emergency call on July 10th, 2020 when he was struck by a drunk driver. Trooper Starr passed on July 31st, 2020.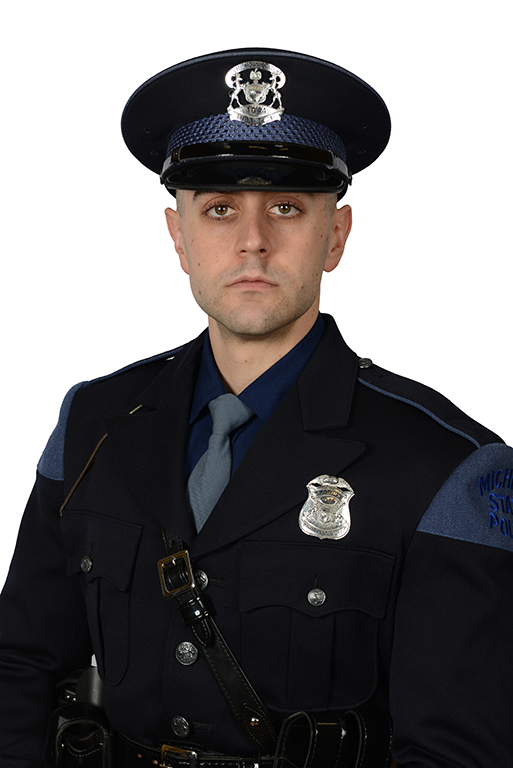 Trooper Caleb Starr
End of Watch: July 31, 2020