Undergraduate Student Spotlight: Nick Doyle
September 2, 2019
Nick Doyle is a sophomore at Michigan State University, an avid iced coffee lover, horror movie
hater, and quadruplet…and yes, all three of his brothers also attend MSU!
Nick grew up in Manitou Beach, Michigan, which is just south of the Michigan International Speedway in Brooklyn. During his senior year at Onsted Community High School, Nick participated in a Teen Court Experience at the 39th Circuit Court of Lenawee where he saw how the courts functioned and how corrections and law enforcement play a vital role in shaping society. It was on this trip, that Nick's interest in Criminal Justice became solidified and not long after, he made the decision to pursue Criminal Justice as a career.
Nick joined the MSU School of Criminal Justice in the Fall of 2018; majoring in Criminal Justice and minoring in Youth and Society and Security Management. During his time at MSU, Nick has taken the opportunity to share his passion for the Criminal Justice field by being involved with ACJA (one of the multiple CJ student groups on campus). For the 2019-2020 Academic Year, Nick will be ACJA's Community Outreach Officer.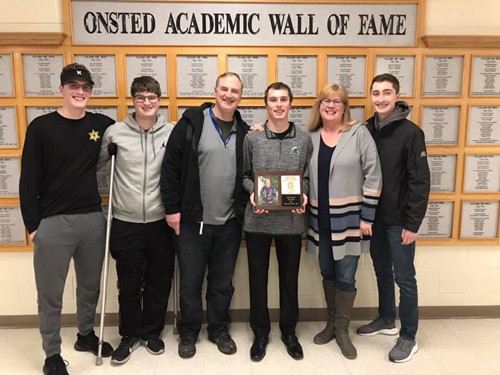 During the upcoming year, Nick plans to sign up for MSU's Washington D.C. Study Away Program, dive deeper into his CJ courses, and become more involved on campus. Nick says his favorite part of being at Michigan State University has been the ability to share his passion with other students and faculty and the friendly atmosphere of the University. "Coming from a small town, I was nervous coming to MSU as it is such a large university. However, after meeting so many enthusiastic CJ students and faculty, I feel right at home," he says.
Outside of his studies, Nick has spent time working as an automotive quality inspector, event security officer at the Faster Horses Music Festival and NASCAR races at MIS, a part-time security officer at the State Secondary Complex in Dimondale and currently works as a Greencoat within the MSUPD. He also enjoys getting outside and staying active as much as possible. Some of his favorite activities include swimming, knee boarding, wakeboarding, water volleyball, biking, running, and basketball.